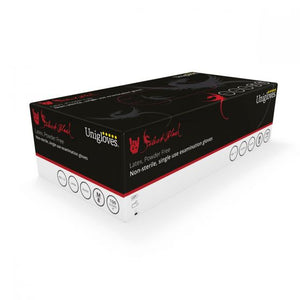 Black, chemical tested, medical grade, medium weight latex examination gloves, washed offline for a softer, more comfortable finish

Protection for Artists
Our Select Black gloves are black, single-use examination gloves, designed and engineered by Unigloves and supplied to tattoo artists around the world. Inspired by the creativity, skill and diversity of tattoo artists; we have been perfecting our Select Black gloves for over 25 years, so they maximise barrier protection, comfort, grip and dexterity allowing the artist to focus on creating beautiful tattoos.

Better for your skin
Select Black gloves are manufactured using our unique Advanced Manufacturing Process, a proprietary process that make our gloves softer, easier to don, and more comfortable in use than standard gloves, while significantly reducing risks of allergies.

Wrist and forearm protection
Select Black are available in natural latex and synthetic nitrile latex, standard length and extended cuff to help prevent liquids from getting into the glove when working in wet conditions and provide additional protection from chemical splashes.

Advanced manufacturing process
Unigloves' proprietary Advanced Manufacturing Process ensures ease of donning, comfort in use and reduced risk of allergic reactions. Our Select Black latex gloves are washed for up to 3 times longer than regular examination gloves and chlorinated on both the inside and outside areas of the cuff to reduce tackiness and improve donning, making Select Black gloves the preferred choice for professionals seeking the ideal combination of comfort, dexterity and durability.