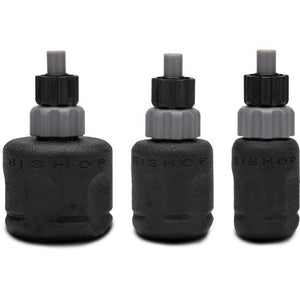 The ARMA Disposable Screw Top Cartridge Grips by Bishop Rotary have been developed to make the artist's daily tattooing routine more hygienic and comfortable. The grips can be used with all common 'screw-style' machines and all major cartridge brands.
Visually, the grips have been given a unique and quality design and finish that Bishop are known for. The grips are sterile, individually packaged, and can be safely disposed of after use.
The grips are available in 1.2", 1.5" and 2" sizes.
These grips are perfectly paired with the Bishop V2 Microangelo and Fantom Tattoo Machine, although they are fully compatible with any machine that accepts a screw-style grip.
Product features:
Individually and sterilely packed
High-density foam material promotes comfort and reduces vibrations
Designed by Bishop
Compatible with all cartridges
Compatible with machines that accept a screw-style grip