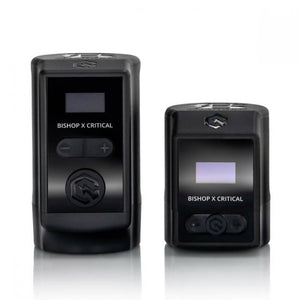 Battery packs to be used with the Bishop Power WAND.
Standard Battery - 1500 mAH. Long-lasting power (up to 10 hours).
Shorty Battery - 800 mAH. Short, but powerful. Lasting up to 5 hours (ideal for shorter sessions).
CRITICAL CONNECT ENABLED - The battery is also enabled with Critical Connect, meaning it is compatible with the Critical Connect footswitch (sold separately) for those artists wanting to use a foot pedal to control their pen machines continuously or momentarily.
POWER WAND COMPATIBILITY – unique base of the battery will only attach to the Power WAND pen machines.
POWER WAND BATTERY PERCENTAGE DISPLAY
To address some of the feedback regarding the battery percentages fluctuating – do not be alarmed – the battery is calibrating to provide you with the most accurate battery life read-out and has no effect on the functionality and run time of your battery/machine.
Critical are proud to use only tier 1 grade batteries on all Critical ​battery packs.
Please note the following:
1) After powering on, the initial battery life display will take approximately 5 seconds to calibrate to an accurate read-out.
2) You may notice the battery life adjusts (increases or drops) between activation and pauses during sessions – this is because the battery calibration is reflecting the device's current usage scenario.
3) Note the % difference may be more noticeable on the Shorty batteries due to the smaller battery capacity.