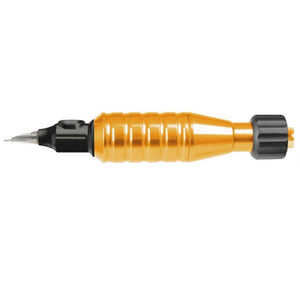 If you work with a Cheyenne Hawk tattoo machine the logical step would be to select a Cheyenne Hawk grip to work with it. These provide a comfortable, durable and lightweight option, with enough flexibility of the material and the available settings to ensure that it provides you with an attractive and effective solution. This particular option is a sleek and professional black, giving a fantastic, bold and professional appearance to the grip that is certain to work well alongside the machine, this is capable of changing cartridges easily and at rapid speeds, and because the grip allows for such precise and accurate work on the skin it is even able to provide more comfortable results for your customers, included improved healing.
If you select to work with Cheyenne Hawk tattoo machines then you need to ensure that you have a grip that will provide you with a comfortable and precise option of grip for working with these tattoo machines. This particular selection is a sleek and attractive black grip, that provides you with a comfortable and well balanced solution to a common problem, this uses lightweight and flexible materials to ensure that you can get the best possible result from the grip, and of course it is suitable for a variety of applications, but is particularly well recognised for providing more precise and accurate needle working. Being black this particular selection is certain to give you an ideal solution regardless of your preferences, offering the sleek and professional look, and you even have the option of either the 25mm grip or the 21mm grip. This grip is of course the specifically developed Cheyenne Hawk grip, and is suitable for fitting to either the Cheyenne Hawk Thunder tattoo machine or the Cheyenne Hawk Spirit tattoo machine. This provides you with an exceptional option for a variety of your requirements, being easy to clear the rubber surface allows it to be wiped easily, and of course it is suitable for sterilisation in an autoclave. This is also a flexible option, not only with regards to the material but the functionality of the grip too, which allows adjustments on the puncture depth and speed of the needle, allows you to change cartridges easily and rapidly and of course the ergonomic design ensures low vibrations, very little sound and even the ability to adjust the handle bar to make the grip more suitable for your particular requirements.
All orders completed before 18:15 on a working day will be dispatched the same day via the delivery service requested if you have chosen DPD as your courier. If you have selected Royal Mail as your courier, the cut off for same day dispatch will be 14:00. We offer free delivery to all mainland UK addresses for orders over £50 ex VAT, with prices starting from as little as £3.95 for delivery elsewhere.
Please visit warranty page to view our warranty details.