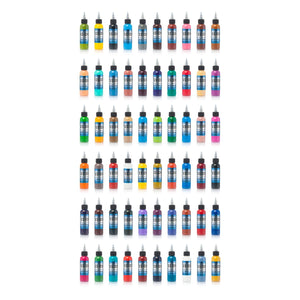 The complete set of Fusion Ink consists of the following 60 colours:
Really Red
Brick Red
Melon Red
Tangelo
Orange
Atomic Yellow
Mixing Yellow
Emerald Green
Gamma Green
Moss Green
Turquoise
Cool Mint
Power Green
Royal Blue
Light Blue
Power Blue
Flaming Pink
Bubble Gum Pink
Saigon Pink
Deep Purple
Periwinkle
Power Purple
Dark Magenta
Magenta
Power Brown
Brown
Light Flesh
Dark Flesh
Butterscotch
Hot Mustard
Pretty Purple
Basic Black
Power Black
Bomber Gray
White
Key Lime
Golden Yellow
Mandarin Orange
Icy Blue
Canteloupe
Pomegranate
Leafy Green
Raw Senna
Burnt Senna
True Blood Red
Artichoke
Mixing White
Tahitian Teal
Foundation Flesh
Wild Lavender
Blue Sky
Primrose
Yellow Ochre
Spring Green
Cornflower
Mauve
Fuschia
Turquoise Concentrate
Hazelnut
Purple Heart
Adam Everett and Next Generation Tattoo Machines teamed up to bring you ever popular Fusion tattoo ink. Fusion Ink is regarded as one of the brightest and best ink on the market today. Adam Everett has produced pigments since 1995. Over the past 15 years he has brought you some of the easiest applied pigments to date. Now, along with Next Generation Tattoo Machines, who have been tattooing and building machines since 1991, they are pleased to present their new line of tattoo inks. Fusion Ink has a very high pigment load and is also an organic pigment that is completely vegan safe. Fusion Ink is not packed with fillers as are alot of inks on the market today. You will see and feel the difference.
All orders completed before 18:15 on a working day will be dispatched the same day via the delivery service requested if you have chosen DPD as your courier. If you have selected Royal Mail as your courier, the cut off for same day dispatch will be 14:00. We offer free delivery to all mainland UK addresses for orders over £50 ex VAT, with prices starting from as little as £3.95 for delivery elsewhere.
Please visit warranty page to view our warranty details.