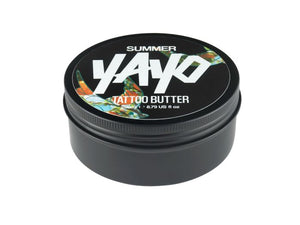 YAYO Tattoo Butter Summer is rich in healing ingredients and has a wonderful orange scent. In this tattoo butter, YAYO combines the best of the best to guarantee pleasant and fast wound healing.
The contained hemp seed oil has a moisturising and anti-inflammatory effect to minimise redness and skin irritation. Added vitamin E acts as an antioxidant and prevents cell damage and reduces the risk of infection. Soy wax provides an easy glide and also acts as a protective barrier, while grapeseed oil moisturises the skin and speeds up the healing process. Chamomile soothes the skin and relieves swelling, while orange oil has an antiseptic effect.
The tattoo butter can be used both during tattooing and as aftercare. The buttery consistency and carefully selected ingredients contribute to well-being and soothe the skin naturally.
All YAYO products are free from animal testing, petroleum and absolutely vegan!
Product features:
Fruity orange scent
Hemp seed oil to reduce inflammation
Vitamin E as antioxidants
Easy glide soy wax
Moisturising grape seed oil
Soothing camomile
Antiseptic orange oils
Rapid healing of the skin
For a bright and vibrant tattoo after healing
Suitable for use during and after tattooing
100% Vegan
Ingredients: Hydrogenated soybean oil (Soy Wax), Virus Vinefara (Grape) seed oil, Cannabis Sativa (Hemp) seed oil, Tocopherol (Vitamin E) oil, *Anthemis Nobilis (chamomile) Flower Oil, *Citrus Sinensis (sweet orange) oil. Citral, Linallol, Limonene, Geraniol, Citronellol (*Naturally occurring in essential oils)