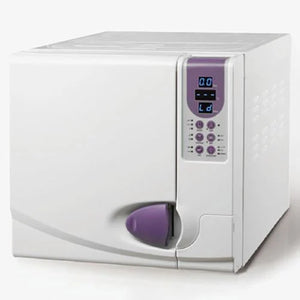 The Enigma 17 litre B type is a non-vacuum autoclave that features clean water operation and four fast cycle options. It has an automatic drying phase and comes with three sterilising trays (tray size 280mm x 180mm)

This autoclave can run a bowie dick test cycle and an air leakage test cycle. A printer and a USB information download facility are also included as standard.
External dimensions: L 590 x W 460 x H 450mm
Fully compliant with MDD 93/42/EEC, BS EN13060 small sterilisers,
HTM 2010-01-15 pressure equipment directive 97/23/EC "SEP"
Excel Healthcare Ltd provide a one-year manufacturer's warranty on all steam sterilisers.
Please note that you will be contacted after payment to arrange delivery as this product is delivered directly by the manufacturer. Cash on delivery is not available for this product. This will not be sent via our normal ups service, and the ETA will be provided through contact by our sales department.