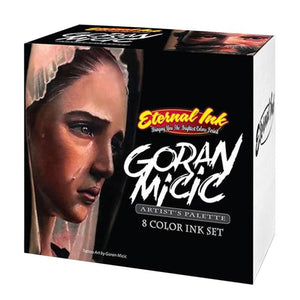 Eternal Ink have teamed up with the incredible colour realism artist Goran Micic. Goran has perfected his approach to colour mixing over years of study and colour theory application. Built upon a few carefully chosen hues, Goran Micic has put together a full range of colours which capture nearly any subject or light effect.
Each colour in this set is a current Eternal Ink colour but renamed by Goran himself.
Deep Love is Magenta (E35) renamed
Dark Sapphire is Dark Cobalt (E28) renamed
Cinnamon is Renaissance (RP09) renamed
Military Green is Olive (E30) renamed.
District Red is Lipstick Red (E41) renamed.
Sunrise Yellow is Golden Yellow (E10) renamed.
Coconut Water is White (E31) renamed.
Marble Grey is Grey (E03) renamed.