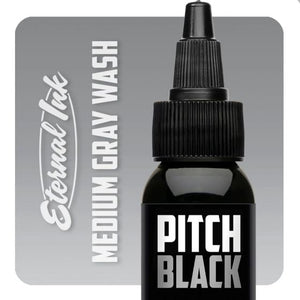 The ideal ink for any black & grey artist!
The Eternal Ink Pitch Black Grey Wash line is the next addition to the popular Pitch Black series. The ground-breaking formula found in Pitch Black provides the base for these 5 pre-mixed washes that allow for ultra-smooth transitions and heal beautifully dark and colourfast.
The Greywash shades harmonise perfectly with the Pitch Black Lining and Pitch Black Concentrate. Of course, all Eternal Ink colours can be combined with the Pitch Black Greywash Set to create an even more extensive palette of individual shades.
Available individually or as sets in 1oz, 2oz and 4oz bottle sizes.