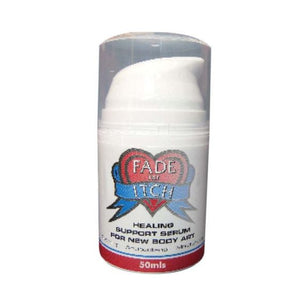 Fade The Itch tattoo 50ml aftercare was developed with the tattooist and client in mind and is recommended and used by a number of award winning artists.
Fade The Itch is an advanced serum to heal and protect your new body art. A patented formula that has been clinically and dermatologically tested to promote healing, soothe the skin and most importantly to alleviate the itching associated with a new tattoo.
Key benefits of using FadeTheItch include:
Shorter healing time
Less itching and irritation
Skin is quickly hydrated and mosturised
Antiseptic and antibacterial properties to support healing and protect from infection
Provides a mild anesthetic action
Economical pump dispenser
Free from parabens, fragrance, lanolin and oil. Non greasy, non staining

 

Fade The Itch is designed to be quickly and easily absorbed into the skin. Protecting, hydrating and healing the skin. The non greasy formula allows the skin to breath and will not clog the pores. It balances the natural pH of the skin and is suitable for all skin types and all ink types. Fade The Itch 50ml tattoo aftercare is available singularly or as a box of 12.