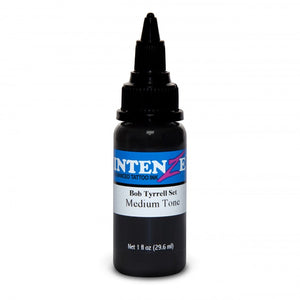 Single bottle of Intenze Bob Tyrrell Mid Tone in a 30ml (1oz) bottle.
Bob Tyrrell is one of the world's leading black and grey tattoo artists. As technically innovative as it is awe-inspiring, Bob's unique style is rooted in his own mixing techniques. He has single-handedly revolutionized the industry and this style of work, and i'm sure you'll agree, his work is truly amazing.
In collaboration with Intenze, Bob has progressed this a step further and formulated a black and grey pigment series to help provide the tools for other artists to reach his level of clarity, realism, value, and contrast.
It is with this series, that Bob and Intenze hope that you can take your black and grey tattoo work to a greater level.
Some inspiring words from Bob...
"Hope you like this ink! There's a couple different ways you can use it, which I'd like to explain real quick. If I'm using every bottle in the set, I'll use medium sized plastic ink cups. I'll set up eight cups total; seven medium 11mm sized cups, and one small 9mm cup for the High White.
I'll line up six cups together, and put one cup a little away from the other six cups. The cup that's moved away is for Dimension Black. The next cup is for Sculpting Black, followed by Dark Tone, Medium Tone, Light Tone, and two cups of straight distilled water. The small cup for High White I put behind the black set-up.
Confused yet? Haha! I only use the Dimension Black for any solid black that I'm doing in the tattoo, whether it be a portrait, custom demon or whatever.
When I want to blend into some shade of gray from the solid black, I switch to Sculpting Black, blending that out from the Dimension Black. From there you can start with the grays. Keep in mind there's no right or wrong way of doing things, and there's no magic technique for black and gray work. Everyone's technique is a little different, but we all try to achieve the same results, which is rich, smooth black and gray!
When I'm working, I don't just dip into one cup at a time. Sometimes I do, and sometimes I dip into two cups at the same time to get a different value. Using water is very important, and you can buy a separate empty bottle if you want it to match the rest of the set. Just re-fill it with straight distilled water.
The other way I use the ink, because I like to keep things simple, is to use the large 14mm plastic ink cups and set out four cups. Three together, and one moved away a little which is for Dimension Black. The next three cups will be Sculpting Black, Medium Tone, and distilled water. I'm eliminating Dark Tone and Light Tone. I can achieve the same results, it's all in the way you dip. For less advanced artists, I'd get used to the first method first.
If you want to try the second method when you get comfortable, it's up to you. If you like the first method, you can stick with that. I have friends who are some of the best black and gray artists in the world, and some use a lot of cups, while some just use a cup of black and a cup of water.
Like I said, it's all in the way you dip. Remember, in tattooing there's no right or wrong way of doing things. Whatever works to get the job done as good as you can possibly do it!
Let me know how you like it, I'd love to hear some feedback!"
All orders completed before 18:15 on a working day will be dispatched the same day via the delivery service requested if you have chosen DPD as your courier. If you have selected Royal Mail as your courier, the cut off for same day dispatch will be 14:00. We offer free delivery to all mainland UK addresses for orders over £50 ex VAT, with prices starting from as little as £3.95 for delivery elsewhere.
Please visit warranty page to view our warranty details.