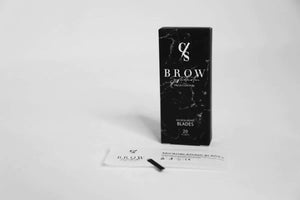 The Sophisticated Blade By Brow Sophistication x Cosmedic Supplies

Kallie Hitchcock, otherwise known as Brow Sophistication, is known for creating the most realistic, precise, and flawless hair strokes. Having spent months designing the Sophisticated Blade, Kallie is now you giving you everything you need to do the same.
Featuring a u-shape structure comprised of ultra-fine needles, the Sophisticated Blade has been designed to help every microblading artist reach their full potential and create unbelievable results.
Ultra-fine.
To create the perfect pair of brows, precision is key. Kallie's 0.16mm blade is the perfect tool for creating ultra-fine, crisp, and realistic hairstrokes that cause minimum trauma to the skin and heal to reveal the most striking results.
Strong.
Our blades are all made of the strongest stainless steel. This helps to create hairstrokes that are super sharp and precise, making blurred strokes a problem of the past.
Sterilized.
Each microblade is individually packaged in an EO gas sterilized blister pack to ensure total sanitization. Every pack is marked with a lot number, manufacture date and expiration date.
#18U 0.16MM