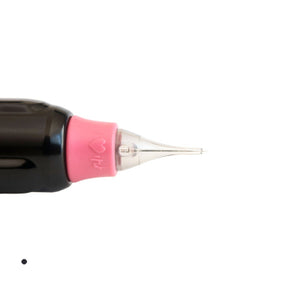 Introducing the new best friend for your permanent makeup machine: the Tina Davies Professional Precision Needle Cartridges.
Designed by PMU artist Tina Davies, the Precision Needle Cartridges features sharp, brush-like needles that will delivery maximum pigment deposit with minimal trauma to the skin.
Each of these PMU cartgridges has an elongated tip for precise pigment placement and smooth pigment flow, while a patented safety membrane prevents backflow into your machine or grip. The soft tension of the membrane also optimises the performance of your PMU machine to allow for easier pigment deposit.
The soft silicone finger ledge adorning the cartridges provides PMU artists with enhanced finger control and comfort, while reducing fatigue during procedures.
Key Features:
Configuration: Round Shader
Needle Diameter: 0.25 mm
Needle Sizes: 3-5
Box of 10 cartridges