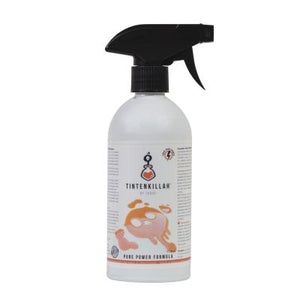 Tintenkillah® Pure Power Cleaner is a powerful cleaning product for all wipeable surfaces. Thanks to the use of natural ingredients, it removes tattoo ink, grease, encrustations and all impurities powerfully and reliably.
Application: Tintenkillah® Pure Power Cleaner can be applied directly to any surface that needs to be cleaned.
1.) Directly apply to the surface that is to be treated, allow to soak in for 3-5 minutes. However, do not allow the surface to dry! Clean by wiping with a soft, absorbent cloth.
2) In the case of very heavy contamination or dried tattoo ink, brush the surface with a soft brush. Spray Tintenkillah® Pure Power Cleaner on the surface to be treated and wipe clean in circular motions. Wipe the surface as described in point 1. If necessary, repeat the process until the area is cleaned.
Tintenkillah®contains (according to detergent regulation): <5% anionic surfactants, soda, fragrances, dyes and auxiliaries.