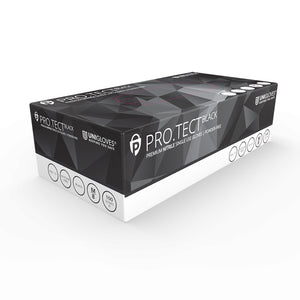 PRO.TECT Black – Heavy Duty Nitrile Black Disposable Mechanic Gloves – Cases of 10 Boxes, 100 Gloves per Box
Silicone free, chemical tested, black, heavyweight nitrile single-use gloves
Unigloves PRO.TECT heavy and ultra heavy-duty gloves; the UK's leading automotive glove range.
Maximum Grip Performance
All PRO.TECT gloves feature an ergonomic grip and score maximum points for dexterity in international tests. PRO.TECT Orange HD features a diamond texture on the inside and outside for maximum grip performance, even when working with oil and grease.
Chemical Resistant
Ideal for use with brake fluid, thinners, Diesel and oil, the PRO.TECT range has been independently tested for chemical permeation by SATRA, experts in PPE certification and testing.
Silicone Free
With an increase in demands for silicone-free manufacturing environments, most of our nitrile PRO.TECT single-use disposable gloves have been developed silicone-free, making them ideal for painting or bonding applications, and helping you maintain a silicone-free facility.
Reduced wastage and overall glove use
All PRO.TECT gloves are ambidextrous, so you don't have to split a pair to replace a damaged glove. The PRO.TECT range is also suitable for use in industrial environments including Manufacturing, Engineering, Construction, Janitorial and Agricultural applications.