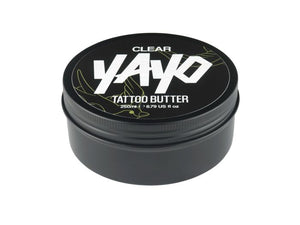 YAYO Tattoo Butter Clear is silky smooth and at the same time contains anti-inflammatory additives. The essential oils from lemongrass ensure complication-free and fast healing for new tattoos and also make old tattoos appear lively and bright again.
The tattoo butter can be used both during tattooing and as aftercare. The buttery consistency and rich ingredients contribute to well-being and soothe the skin naturally.
All YAYO products are free from animal testing, petroleum and absolutely vegan!
Product features:
Lemon grass essential oils
Hemp seed oil
Vitamin E as an antioxidant
Rapid healing of the skin
For a bright and vibrant tattoo after healing
Suitable for use during and after tattooing
100% Vegan
Ingredients: Hydrogenated soy bean oil (Soy Wax), Virus Vinefara (Grape) seed oil, Cannabis Sativa (Hemp) seed oil, Tocopherol (Vitamin E) oil, Cymbopogon Schoenanthus (Lemongrass) oil. *Citral, *Eugenol, *Geraniol, *Citronellol, *Limonene, *Linalool. *(Naturally occurring in essential oils)