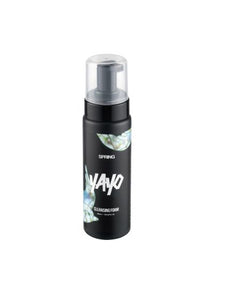 YAYO Cleansing Foam Spring contains mango and coconut extracts that soothe and reliably cleanse the skin. The cleansing foam is also antimicrobial and based on natural ingredients that effectively support the healing process.
The cleansing foam is suitable for cleaning fresh tattoos and smaller wounds. The special ingredients have an anti-inflammatory effect and reduce redness.
All YAYO products are free from animal testing, petroleum and absolutely vegan!
Product features:
Fresh mango fragrance
Reduces redness and inflammation
Suitable for use on freshly stung tattoos, small cuts and abrasions
100% Natural
100% Vegan
Ingredients: Aqua, (Water) Potassium Oleate, (Sunflower oil) Potassium Cocate, (Coconut oil) Glycerin, Potassium Citrate, Citric acid, Parfum (Mango) oil, *Geraniol *Citral, *D-limonene *Citronellol (*natürlich vorkommend in ätherischen Ölen)